Melt-In-Your-Mouth Swiss Steak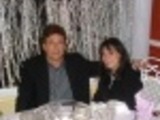 This shortcut version of the familiar recipe produces a steak that is truly tender!
1⁄2 cup all-purpose flour
1 1⁄4 teaspoons salt, divided
1⁄2 teaspoon pepper, divided
2 lbs cube steaks
6 tablespoons vegetable oil, divided
3⁄4 cup chopped celery (about 2 stalks)
1 small onion, chopped (about 1/2 cup)
1 (14 1/2 ounce) cansliced carrots, drained
1 (28 ounce) jar spaghetti sauce
Directions
In a medium bowl, combine the flour, 1 t. salt, and 1/4 t. pepper; coat the steak with the mixture.
In a large skillet, heat 4 T. of the oil over medium-high heat; add the steak and cook for 6-8 minutes, turning halfway through. (If your skillet is not large enough to cook all the steak at once, cook it in two batches, adding more oil if needed.) Remove the steak from the skillet and set aside.
In the same skillet, heat the remaining 2 T. of oil over medium-high heat and saute the celery and onion for about 5 minutes or until tender. Add the carrot slices, spaghetti sauce, and the remaining salt and pepper; mix well. Add the steak to the mixture, reduce the heat to low, and simmer, uncovered, for 10 minutes or until warmed through.
Reviews
Most Helpful
Absolutely wonderful. My kids have been hesitant with swiss steak before but not anymore! This was a terrific meal for us all. The steaks were VERY moist and the flavors were spot on! My teen said this tasted like a special meatball with sauce - just flattened! I will be using this recipe often as it is so economical, easy to prepare and delicious! Thanks Jackie! Found and tagged in Everyday is a Holiday.
We love swiss steak in our house and this recipe is a really good one. The meat turned out flavorful and moist. My family loved it. Thanks for sharing. Made for ZWT7 for the Vivacious Violets.
Snuggle wuggle, I haven't had "swiss steak" for the longest time! After eating such a delightful meal, I wanted to curl up on the couch and reflect on the meal that I just devoured. I used cubed steak, and it turned out perfectly! Tender, easy to chew, and real crowd-pleaser! I did cook longer then 10 minutes, (because I was waiting for farm-hands to come in) but it didn't matter, it was juicy and finger licking good all the same. Served with some wild rice. Made for ZWT7