Melt in Your Mouth Sugar Cookies
Linky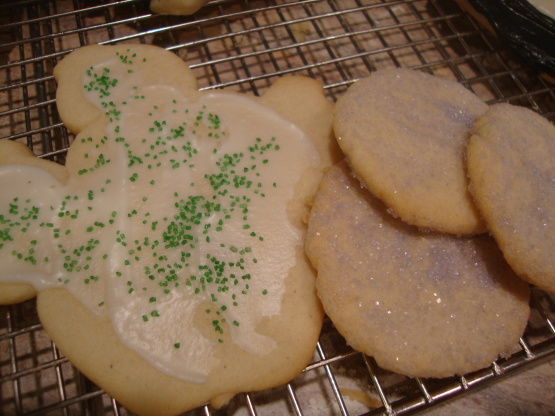 My Grandmas original sugar cookie recipe that we make every year, I've not found another sugar cookie recipe with these exact ingredients in it, so i'm posting this one here to share and keep for myself, since the original is written in fading pink ink on old paper :) I absolutely love these :)

Top Review by Linky
The directions did not mention chilling, but I did chill for about 2 hours. That said, the cookies spread out so much that you could not tell what the cookie shape was. Also, they kept breaking - before and after baking. The flavor was very good but such a hassle! The ones I smooshed with the bottom of a glass were much better, tho not so cute. I still have about half the dough in the fridge - will revise my review after I bake the rest! OK - they were much easier to deal with after chilling overnight but still a bit spreading with cookie cutters. I will make these again - those that I made with a sugar-dipped glass and baked til golden at the edges were wonderful! For PAC spring 2010.
Cream butter and shortening with the sugars.
Beat eggs and add to the butter along with the baking soda and cream of tartar, blend together thoroughly.
Gradually add the flour until well blended.
Either roll into small balls and flatten slightly with a glass dipped in sugar, or roll out on slightly floured surface (not too thin) and cut out shapes with cookie cutters.
Grease cookie sheets, and Bake in 350 degree oven 7-10 minute Be careful not to over bake, they should still be white on the top and a very light brown on the bottom. Cool.
If you want to put sugar on them, sprinkle with colored sugar before baking, otherwise frost with frosting once they are cool, either store bought or your own recipe. They turn out best with sugar or frosting as opposed to plain.