Melt-In-Your-Mouth Strawberry Muffins
Katzen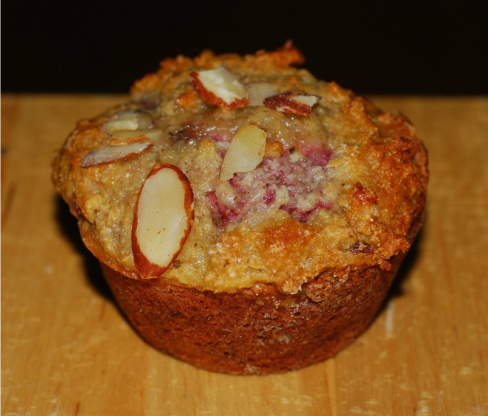 I got this from the foil lid of a container of Stonyfield Yogurt. I am posting them for safekeeping, along with some changes I will probably make to the recipe. I'll put the original recipe in parentheses for those of you who would like to try them the original way :).

Top Review by Katzen
Yum! I really liked these muffins! I used the flours noted (spelt instead of ww, but that's kind of the same, right?), and I loved the consistency! I added 1/4 cup of sliced almonds as well, and used about a tsp of organic sugar (which was a courser grained sugar) and some sliced almonds on top as well. This added a bit of a crunch on top, which was nice. I'll definately make these again, and am sending the recipe to my sister as she makes muffins for her family every week. I imagine these would be fantastic with any fruit! Thanks Smelly - glad you took this one down - and loved your changes, too! Made for Veggie Swap September.
Heat oven to 375.
Mix dry ingredients.
Make a well in the center and mix the eggs, yogurt, butter, and vanilla.
Stir gently to incorporate dry and wet ingredients.
Pour batter into muffin tins and bake 20-25 minutes or until golden brown.