Melt -in- your- mouth Cream Puffs
Dave95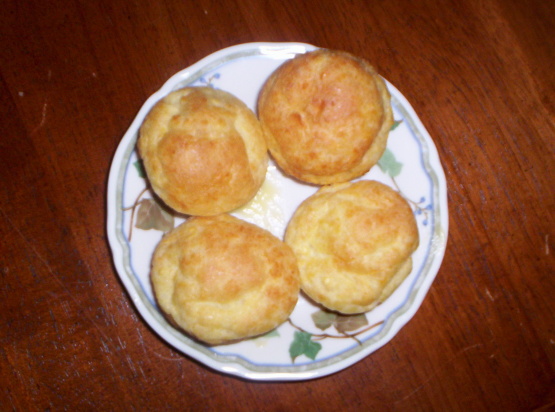 These elegant morsels are best eaten soon after filling or you can put them in the freezer and have them as a frozen treat.

This are great. I couldn't find my recipe for my cream puff so I looked on ZAAR and found this. Thanks for the posting.
Popovers: Mix all ingredients in large bowl.
Half fill greased muffin tins w/ mixture.
Put in cold oven and set temp to 450 degrees F.
Bake 15 minutes.
Reduce heat to 350 degrees F.
Bake for another 15-20 minutes.
Test one: make sure it is crispy outside and moist inside.
Filling: Combine sugar, cornstarch, salt and egg yolks in a bowl.
Add warm milk slowly to sugar mixture.
Pour back into a sauce pan and cook over med.
heat stirring constantly until thickened.
Add vanilla/melted butter and cool completely.
Spoon into popovers.
Cover w/ chocolate sauce and serve.