Melt in Your Mouth Beef Stew
Marie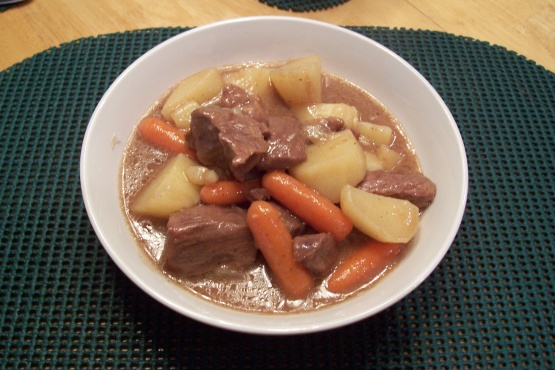 This is my own version of beef stew. The secret is to thicken the gravy as soon as you brown the beef. To make life easy, this dish is finished in the oven. You will not believe how tender the meat gets by using this method!

I added chunks of celery, as we love celery in our Beef Stew, but other than that made following the recipe. We all really loved this stew! I wouldn't change a thing. Excellent Marie. Thank you!
Salt and pepper beef and dredge in flour.
Over high heat, place oil in cast iron Dutch oven.
Add beef and onion and saute until meat is browned.
Add beef broth and water to barely cover the meat and bring back to a boil.
Shake 1 cup of cold water and flour in a jar until well combined and then add slowly to beef mixture.
Cook and stir until thickened.
Cover and place in preheated 325° oven and cook for 1 hour.
Remove from oven and add potatoes and carrots.
Cover and return to oven and bake at the 325° temperature for 1 more hour.
Remove from oven, add peas and stir.
Serve with crusty bread.