Melt-In-Your-Mouth Barbecued Chicken
ImPat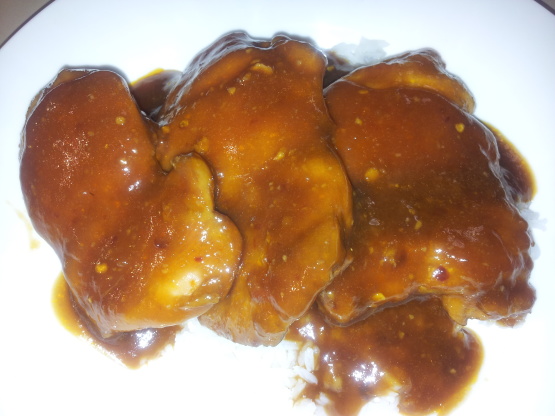 This recipe won $10,000 in the Southern Living 2003 Cookoff contest in the Simple & Scrumptious Entrées. This is fall off the bone good!

Top Review by Gerry
Southern Living knows how to pick a winner - know I picked one with this recipe! Cut the recipe back for two - followed through as posted. Love this combination - so like the kind favoured here on the prairies. How good - it's on for our next gathering.Also thinking to slicing and threading chicken breast onto skewers, with that sauce it will make one wow of a starter or appetizer for our summer cookouts. Thank you Sharon. Made for the Auz/NZ August swap.
Heat oil in a large skillet over medium-high heat. Add chicken thighs, and sauté 3 minutes on each side.
Combine fruit juices in a large bowl. Stir cornstarch and 1 tablespoon juice mixture together until smooth; set aside.
Stir soy sauce, brown sugar, ginger, vinegar, ketchup, red pepper and garlic into remaining juice mixture; pour over chicken. Bring to a boil; cover, reduce heat, and simmer 35 minutes, turning chicken after 20 minutes. If using boneless chicken, cooking time will only take about 25 minutes.
Uncover chicken, and stir in cornstarch mixture. Cook, stirring constantly, 5 minutes or until sauce thickens.
Spoon warm rice onto a serving platter, top with chicken and sauce. Sprinkle with green onions.