Mel's Salt & Pepper Squid
Chickee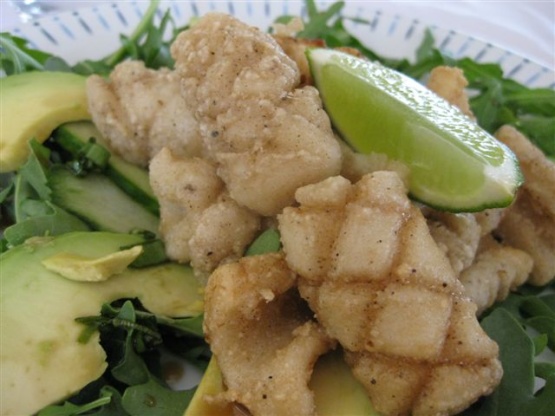 I introduced my friends and family to salt and pepper squid at our local Chinese restaurant. Now it doesn't matter which Chinese restaurant we go to - this is the only dish that we order 2 serves of. This tasty version I adapted from Neil Perry's recipe (appears on the Australian Lifestyle channel website). I found the tempura batter a great substitute for the rice flour.

Great recipe Mel! I've been looking for the right combination of peppers and salt for a while. I did find it needed a little more salt, but you can always taste the first batch and add more if required. I served this as an entree on Christmas Day on top of a salad of rocket, avocado and cucumber with a sweet tamari dressing. My coeliac BIL was happy. To make the squid softer, I soaked for 5 hours or so in milk.
10 -20

small dried red chilies (optional)

3

tablespoons sea salt

2

tablespoons black peppercorns

2

tablespoons szechuan peppercorns

500

g rice flour (or tempura flour, I used tempura batter instead)

1

kg squid, tubes cut in half so it flat,then into strips. they will curl in the oil

500

ml peanut oil

2

tablespoons coriander, chopped (I don't add this)

2

limes (cut in half for squeezing, I don't add this either, but it would be nice!!!!!)
Dry roast spices (salt, both types of peppercorns and chilli) in a pan over a low heat until salt starts to turn golden and spices fragrant.
Place into a mortar and pestle and cool.
Once cool, grind with the mortar and pestle to a fine consistency.
Mix through the rice flour (tempura batter/ flour).
Heat oil in a wok or saucepan to 180 degrees Celsius (a sugar thermometer is the safest and best way to check your temperature).
Cut squid into thin strips (or score lightly with knife and cut into larger pieces).
Dust lightly in the flour mix and cook a small batch at a time to retain the heat in the wok to give your squid crunch.
Drain on absorbent paper and place onto your plate.
To Serve Sprinkle some chopped coriander over the top, a bit more salt if you wish and add some lime wedges.
Great with an Asian beer!
I hope that you give it a try'cause it's not stringy and not too fishy- it ends up really tender.