Mel's Oatmeal, Pb, Chocolate Chip Cookies
CoffeeB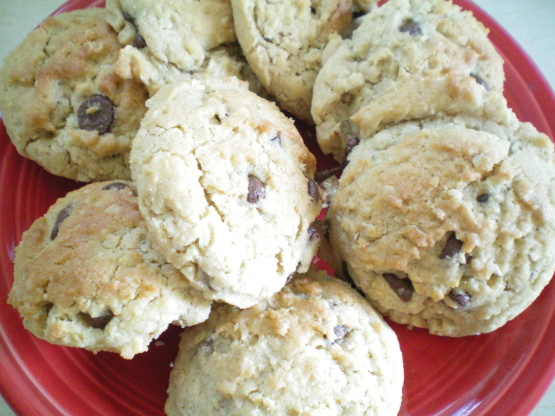 This recipe is a bit different than the others posted basically just in the amount of oats and that this does not use chopped peanuts. This has been an old standby for my family from the time I was a kid.

Made for 1-2-3 Hit Wonders. Yummy, yummy, yummy! Made these for the Super Bowl party we went to and they were gone in no time! Peanut butter, oatmeal and chocolate chips are some of my favorite things and what better way to eat them than all together in a cookie! Will definitely put these on my list of cookies to make on a regular basis! Thanks for posting this Mel!
Cream together the butter, peanut butter, brown sugar and granulated sugar.
Add egg and beat together well.
Sift flour, baking soda, salt and cream of tartar together.
Add flour mixture to creamed mixture and mix well.
Fold in oatmeal and chocolate chips.
Form dough into balls and place on baking sheet. Flatten with fork in a criss cross pattern.
Bake at 350F for 10-12 minutes.
Let cool in pan for 5 minutes before removing to wire rack to cool completely.