COOKGIRl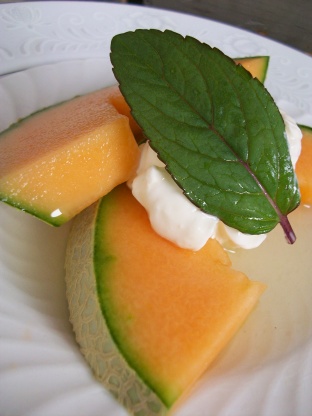 From the Graham Kerr Cookbook. Posted for ZWT 5.

Simple, delicious, easy to make! I replaced half the sour cream with full fat cream cheese. Wasn't sure what preserved gingerroot is. Is it the finely sliced pickled ginger that you're served on sushi, for example? Used this recipe: Recipe #32402 to make the ginger syrup and garnished the fruit with fresh orange mint from the garden. Would work equally well on other fruits, too. Reviewed for Veg Tag. Tip: drizzle the simple ginger syrup over the top of the fruit using a fine mesh strainer to eliminate any residual ginger peel. (I know, I should peel it first but I don't.)
Cut cantaloupe in half and remove seeds.
Combine chopped ginger and sour cream, and place in melon halves.
Drizzle syrup on top.