Rita1652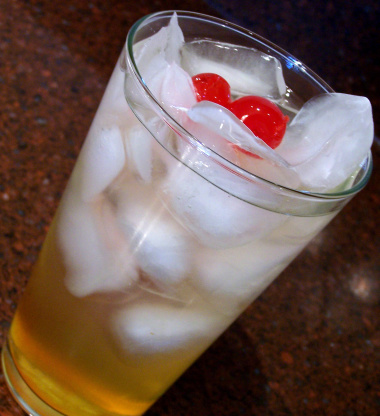 I drink this at bowling on Monday nights: Coconut Rum Pineapple Juice Club Soda. Since it was St Patty's Day, I told the bartender to add some melon liqueur for the green color. GOOD STUFF! No problem doubling it or make a punch out of it! Blend it with some frozen melon!

Rita, this is a lovely refreshing cool drink that I could easily enjoy by the pool on the patio all evening long! This would taste great as a frozen drink as well as over ice. My chef's hat is off to the bartender! Thanks for this wonderful beverage recipe, Rita!
1

fluid ounce coconut rum
1⁄2 fluid ounce melon liqueur

4

fluid ounces pineapple juice

1

fluid ounce club soda

Garnish

melon, slice
Pour rum, liqueur and juice over ice in a glass.
Stir.
Add the soda and stir gently.
Garnish with a cherry, pineapple or melon wedge.
Serve in a coconut shell.