Jubes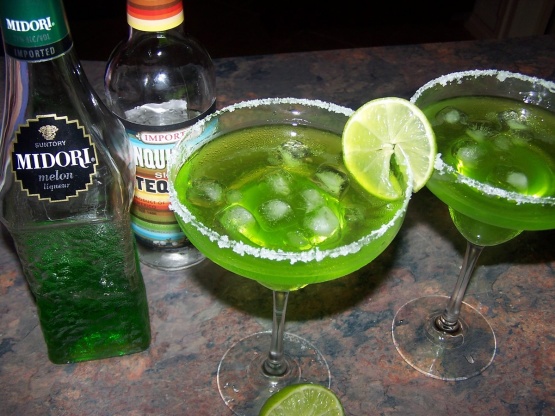 The Midori adds color and unique flavor to a classic. Looks even better garnished with fresh melon balls, frozen and skewered on toothpicks.

Whoa! This was super strong. I really enjoy Midori and was excited to try this margarita. I only used equal amts of the tequila/Midori though..had I used more it definitely would of tasted like straight tequila! Smooth going down so it gets an extra star for that. I just wish the Midori had stood out more. If I make it again I would just increase the Midori. Thanks for posting!
Run lime wedge along rim of long stemmed cocktail glass.
Dip rim into salt and set aside.
Add tequila, Midori and lime juice to a cocktail shaker half filled with ice cubes.
Shake well and strain into prepared glass.