Mellow Mushroom Esperanza Dressing
egeier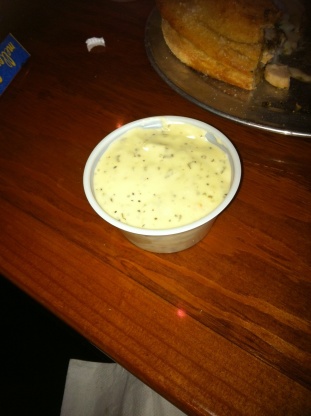 The recipe I found for this dressing which is all over the web isn't even close, so I went to the kitchen and started tinkering while the memory of the delicious chef salad I had at Mellow Mushroom last night is fresh in my mind. Here's my best effort.

This is really close- I think you will find that anchovy is one of the flavors that is missing- it is essential to the distinctive flavor. Try replacing the worchester sauce with an equal amount of quality anchovy paste & store the rest of the tube in the fridge for later.

I also used crushed raw garlic instead of granulated (I put several cloves through a garlic press) and a bit more fresh crushed pepper to give it some kick. I crave the Mellow Mushroom Greek salad all the time and this is the missing link I needed to make it at home! Thanks!
Put all ingredients except oil and parsley in the bowl of a food processor and process until smooth.
With motor running, drizzle in oil through feed tube.
Stir in parsley by hand.