VickyJ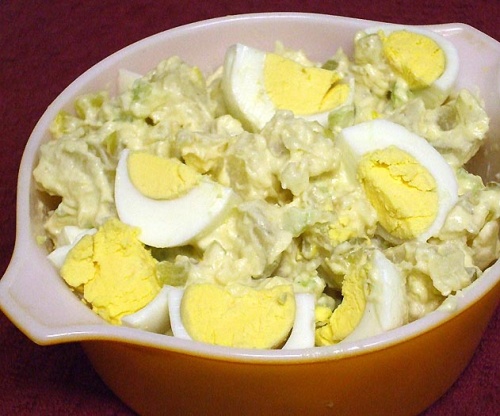 A food blogger from blogspot, this is her recipe for this tasty potato salad.

Top Review by VickyJ
Hi there! I made this for dinner to go along side BLT's. I didn't have any sour cream, or celery seed. I added a little finely chopped celery and had to use white onion. Since it was just the two of us, I made the recipe for 2 servings and topped it with 2 hard-boiled eggs! Thanks for the great salad recipe. This was made for Fall PAC, 2008! :)
Boil potatoes with 1 teaspoon salt until tender. Drain, then place in a bowl. Mix 2 tablespoons pickle juice and 1 tablespoon mustard together and evenly coat potatoes with mixture. Chill in refrigerator.
Mix 1 tablespoon pickle juice, chopped pickles, ½ tsp salt, 2 tablespoons mustard, pepper, celery seed, mayonnaise, sour cream and red onion. Stir in cooled potatoes and chill. Stir in diced eggs before serving.