Melanie's Tangy Chicken Casserole
Pamela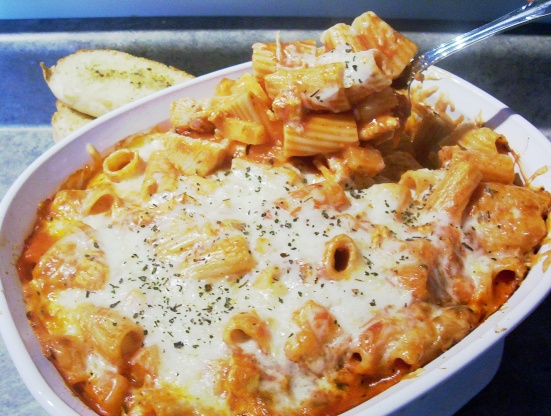 My friend's great recipe that has solved the quick "dinner dilema" more than once! Thanks Mel! (OAMC instructions included)

I guess I can review the recipe that you stole from me!!! I really enjoy this dish and it can also be made in a crockpot and using raw chicken!! If you use raw chicken in the crockpot, you have to have the crockpot set on high to insure that the chicken reaches a high enough temperature quickly. It is a real time saver! I've also thrown all the ingredients into a freezer bag to pull out and put in the crockpot at a later date, so I guess this could actually be added to OAMC list!
1 1⁄2 cups cooked chicken (3-4 skinless, boneless, breasts)

4

cups of your favourite pasta sauce, or more if you like it really saucy!

1

(19 ounce) can pineapple tidbits

4

cups your favourite uncooked pasta

Top with

2

cups grated cheese, marble works well

1

dash oregano
Cook Pasta until tender.
Drain pineapple.
Combine rest of ingredients, place into casserole dish and top with cheese and oregano.
Bake at 375 degrees for 30-35 minutes.
Great with garlic bread or cheese toast.
**for OAMC: label and freeze after step 3. Defrost overnight and bake covered 45-60 minutes or until heated through. Uncover and bake an additional 5 minutes, if desired. To bake from frozen, double baking time.