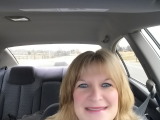 This is my personal recipe I have been making for years through trial and error. I hope it can be a favorite of yours too. :)
Directions
Place roast and cut up vegetables in a crock pot.
Add sauces, pepper and the 2 bouillion cubes dissolved in the hot water.
Cook on high for 6-8 hours or low for 12 hours.
We prefer mashed potatoes, so I add celery in place of the potatoes in the crockpot.
Also, you can adjust the sauces and pepper to your taste.
Most Helpful
I tweaked the ingredients just a bit on this one. I omitted the bullion cubes and hot water and used gravy instead. I also reduced the amount of teriyaki and soy sauces and added some liquid smoke. I used poatatoes, red onion, celery and carrots. It only took about 3 hours in my crockpot on high. Very nice.

I hate to give anyone less than 4 stars, so keep in mind that it may be better w/a slight change in ingredients (or maybe there was a minor ommission in the list of ingredients. I thought about using low sodium teriyaki/soy but didn't because the recipe didn't indicate it--- HUGE mistake. The meat, while tender, was so salty, we could not stand to eat it...we threw out the entire meal.