Mediterranean Veggie Lasagna
Malee_H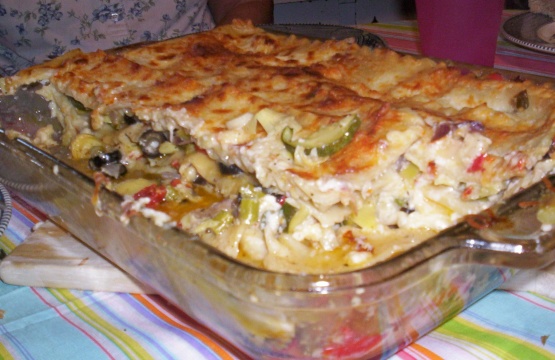 Vegetable Lasagana with a Mediterranean flair to it. Inspired by Barb Gertz's Veggie Lasagna with Bechemel. (check it out, it is AWESOME)

Top Review by ellie_
I thought this dish was a lot of work for the end result, but I also think it is one of those dishes that taste better the second day. Although this didn't work out as well as I expected for my family I think it would be a perfect vegetarian dish to bring to a potluck.
1 1⁄2 tablespoons olive oil

1

(10 ounce) package frozen artichoke hearts, thawed and sliced

2

(14 ounce) cans black olives, halved

1

red onion, chopped

3

stalks celery, diced

10

green onions, sliced

2

small zucchini, diced

1

large roasted red pepper, diced

1

(10 ounce) package frozen spinach, thawed

2

tablespoons fresh diced garlic

2

lbs asparagus, trimmed and chopped into 1/2 inch pieces

10

ounces sun-dried tomatoes packed in oil, drained and diced

3

tablespoons fresh sweet basil, chopped

15

lasagna noodles, cooked according to package instructions

8

ounces asiago cheese, shredded (or feta if you would prefer)

6

tablespoons butter
1⁄2 cup flour

5

cups milk
Preheat oven to 375 degrees F.
Heat oil in a large pot over medium-high heat.
Add red onion, green onion, garlic and celery.
Saute until onion is translucent and celery starts to soften.
Add other veggies, one by one, stirring before adding the next.
Cover and cook 5 minutes, stirring once.
Uncover and cook til vegetables are tender, stirring often, about 10 minutes longer.
Season with salt and pepper.
Melt butter in large sauce pan over medium heat.
Whisk in flour.
Whisk 2 minutes.
Gradually whisk in milk.
Cook until mixture comes to a boil, whisking often.
Remove from heat and season with salt and pepper.
Spoon 1 cup of sauce over bottom of your lasagna pan.
Arrange 5 lasagna noodles atop sauce, overlapping slightly.
Spoon half of vegetables over noodles.
Spoon 1 1/2 cups sauce over veggies.
Sprinkle 1/3 of your cheese over sauce.
Repeat each layer once.
Top with the last 5 lasagna noodles.
Spoon remaining sauce over noodles.
Top with remaining cheese.
This is where you would refrigerate for later use, just cover tightly.
Bake Lasagna uncovered on center rack until sauce is bubbling, about 40 minutes, 55 minutes if previously chilled.
Remove from oven and allow to stand for at least 10-15 minutes before slicing.