Mediterranean Tuna Sandwiches
PaulaG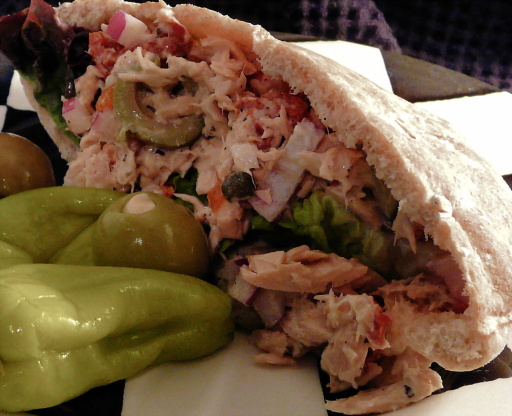 This is adapted from Cooking Light magazine. It doesn't say to toast the bread but I did. I just found out someone else had this posted already so I'm changing it to my version. I can imagine eating this wrapped in lettuce leaves or as a tortilla wrap too. It is good with and without the mayo. YUM!

T darlink, these were JUST great! I LOVED the whole blend of ingredients and we wolfed these down for lunch with salad! A wonderful and VERY tasty tuna salad recipe that was just that bit different! Merci! FT:-)
Toast bread if desired.
Combine olive oil and vinegar in a small bowl; brush oil mixture evenly over 1 side of each bread slice or inside pita pockets.
Combine tuna and the rest of the ingredients (except lettuce).
Place 1 lettuce leaf on each of 4 bread slices.
Top the lettuce evenly with tuna mixture, and cover with remaining bread slices.
Serve immediately.