Mediterranean Tuna Sandwich
skat5762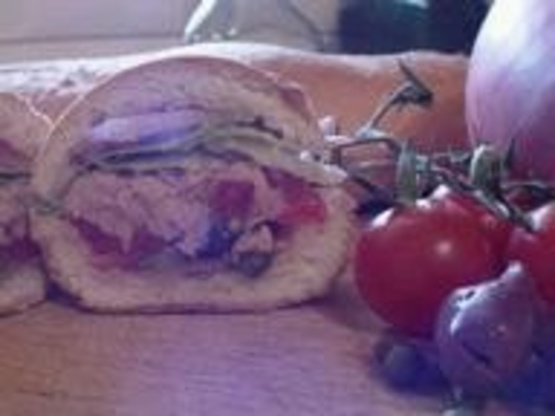 My boyfriend's mother prepared this for us on holiday... I don't normally like canned-tuna, but the layer of fresh flavors that break through in this sandwich are outstanding! I've never measured the ingredients when I've made this, so these are all approximations. Fresh bread and tomatoes are a must!

This was excellent. The only difference is I used fresh tuna instead of canned, but I doubt that will make a big difference.
Using a small bowl, mix olive oil and red wine vinegar together.
Place onions in mixture and let marinate while you prepare the rest of the ingredients.
When ready, set out bottom slice of bread, drizzle thinly with the oil-vinegar mixture, and layer onions.
Follow with capers and olives, tuna, tomato, leaf green, drizzled lightly with oil-vinegar mixture and top slice of bread.
Squish everything together and let sit for a few minutes while you clean up, bring plenty of napkins, this is one messy sandwich!