Mediterranean Tuna Pasta Salad
Prep 15 mins
Cook 10 mins
White albacore tuna is dressed up with fresh vegetables and a lemony vinaigrette for a light and tasty main dish salad. Adapted from the Pampered Chef's "It's Good For You".
Directions
Whisk dressing ingredients together in a small bowl. Set aside.
Cook pasta according to package directions. Drain and rinse under cold running water. Drain again.
Place pasta in a large bowl. Add vegetables, olives, salad greens and tuna. Pour on vinaigrette, toss to coat.
Sprinkle with feta cheese.
Most Helpful
Loved this recipe! I love pasta salad and I love tuna and this dressing really brought it all together. I used only about 1/2 the pasta amount and 1/2 the vinegar and used Greek seasoning instead of the oregano. I added the lettuce to the individual servings at the table so the lettuce wouldn't get soggy. Thanks for posting!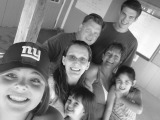 Great fresh-tasting salad ! I reduced amount of vinegar to 1/8 of a cup and used roasted red and yellow peppers instead of grape tomatoes,since I did not have any. I also did not have any feta cheese so I used grated parmesan instead. Thank you very much. Will make it again.

This is a GREAT salad SQ & has all our favorite salad ingredients! As you can see from my pic, I did take some Iclandic liberties but I stayed true to the heart & soul of your recipe in every way. I used cherry tomatoes for the grape-sized ones, spaghetti instead of shells & iceberg lettuce instead of mixed greens ... the last just because I couldn't help myself. I love iceberg lettuce & we don't see it often here. :-) The only other thing I did was to decrease the amt of vinegar slightly in the dressing to suit my DH. We loved this salad & it got a big YUM from both of us! Thx for sharing this keeper w/us!