Thorsten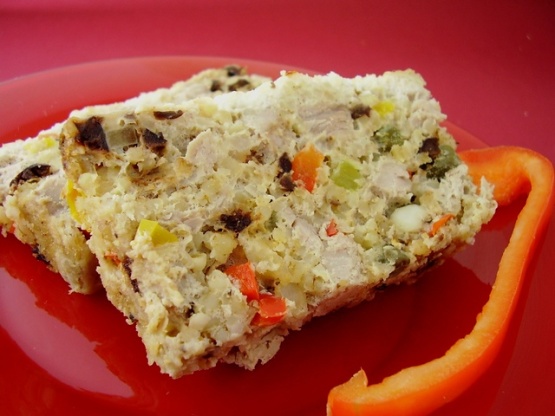 I served this with Cilantro-Japapeno Hummus for sauce-a surprisingly good combination!

It's so easy to make and yet so full of flavors. Have had fresh tuna and came across with this delicious recipe. Served it with Mediterranean Kalamata Hummus (#131988) which was a great combination. The leftover (if there is one) can be freezed for later use. Thanks for sharing this tasty recipe.
Pre-heat oven to 350F; Spray a 5x9-inch loaf pan with cooking spray and set aside.
Place the couscous and minced garlic in a large bowl and pour the boiling water over; let sit until the water is absorbed.
Chop the tuna into 1/2 inch dice and add to the couscous.
Add all remaining loaf ingredients and mix well; hands work the best (I wear latex gloves).
Pack the tuna mixture into the prepared loaf pan.
For the topping, mix the yogurt and parmesan cheese together and spoon globs of it over the loaf; sprinkle with paprika.
Bake in 350F oven for about 1 hour. Slice to serve.