Mediterranean Tilapia Pockets #RSC
logansw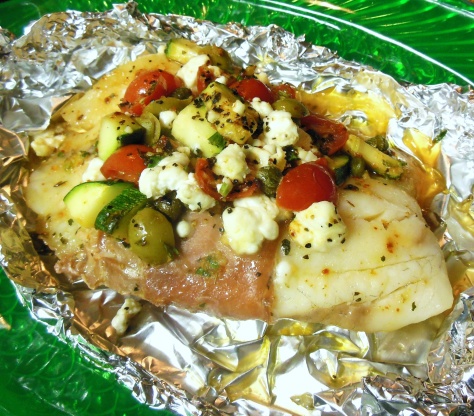 Ready, Set, Cook! Reynolds Wrap Contest Entry. These dinner pockets will take you on a Mediterranean adventure as soon as you open the foil and get your first smell of pure yumminess! They are perfect for a quick, easy and delicious dinner meal after a long day with the kids or work. I hope that you will give them a try. Cooking with Passion, sw :)

Sooooo good! I rarely write reviews but this one is worth it. Very quick and easy. I did find that I needed to cook it about 28 min instead of the suggested 15-20. I probably ended up doubling the amount of veggies to just because I love zucchini so much. Very happy I have another new fish recipe in my cookbook! Oh also, I wasn't able to find an actual Greek seasoning so I got a seasoning that had similar ingredients.
Preheat oven to 375 degrees.
Rub filets with 1/2 of the olive oil and 1/2 of the Greek seasoning.
Wrap 1 slice of prosciutto around each filet.
Place 1 filet on 1 sheet of aluminum foil.
Combine tomatoes, zucchini, olives, capers, parsley, mint, lemon juice & zest and remaining spice blend in a small mixing bowl. Toss.
Place equal amounts of tomato mixture on top of each filet. Top with goat cheese and black pepper.
Take the 2 opposite ends of foil, bring them together over filet and fold edges 2-3 times down and seal. Fold in 2 remaining open ends and seal.
Place aluminum pockets on a large oven proof sheet pan.
Bake for 15-20 minutes. Allow to rest for 5 minutes. Unseal and serve.