Mediterranean Style Orange Roughy
PaulaG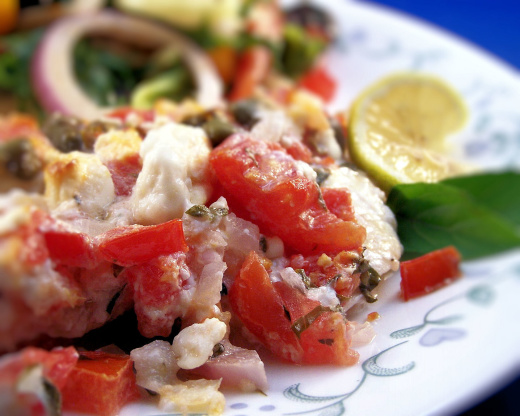 This is my absolute favorite fish recipe for its wonderful flavor and ease of preparation. I love Mediterranean food and the mild, tender Roughy is a fantastic compliment to the fresh and vibrant feta, caper and tomato topping. This is a great, healthy recipe that will have you feeling like you just ate in a fancy restaurant. I adapted this recipe from a recipe found at epicurious.com. As usual, substituting or eliminating any ingredients will greatly change the flavor as each ingredient compliments the other.

Bravo!! Two thumbs up!! The thing that makes this recipe great is it is perfect as written, and if you don't have an item or two in stock, you can substitute and it is still delicious. I've substituted calamato olives for the capers (though I LOVE capers...but didn't have them) It came out great, valdalia onion instead of red? I prefer red, but still came out great! No sour cream? Can use yogurt...still wonderful. I'm curious to try a variation with artichoke hearts. THANK YOU for such a tasty dish, one I will be making again and again....
Preheat oven to 400°F.
Line baking sheet with foil.
Lightly spray foil with non-stick spray.
Season fish on both sides with kosher salt and fresh ground pepper.
In a medium bowl combine feta, sour cream, red onion, garlic, capers, tomatoes, lemon peel and oregano and stir until thoroughly combined.
Add wine to feta cheese mixture if desired.
Arrange fish on prepared baking sheet.
Spread cheese topping over fish.
Bake until fish is just cooked through, approximately 10-12 minutes.