Mediterranean Stuffed Tomatoes
Leslie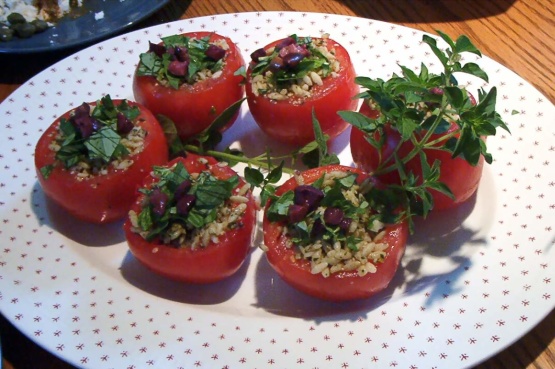 These stuffed tomatoes make an easy, yet elegant main dish or side dish. Served at room temperature it makes a nice dish for these hot summer days. Very easily put together with a very attractive presentation.

This is great cold. I add a twist to it and make it for the oven. I keep the cut off tops of tomatoes with the center cored on the side. I cook the orzo with chicken stalk and with the scooped out remains of the tomatoes. Once cooked, I strain, leaving the remains of the tomato flesh with the orzo and reserve some of the liquid which I pour into the baking dish with some olive oil.. I use a classic spinach basil pesto to the orzo, tomato remains and the feta cheese. Fill the tomatoes with the stuffing into the dish with reserved liquid and place the tomato tops back on top and spray with olive oil. Bake covered at 350 for 1 hour.
Brint the water to a boil in a large pot. Add the orzo, stir, lower the heat, cover, and simmer for about 7 minutes, stirring as needed.
While the orzo cooks, combine the basil leaves, garlic, pistachios and parmesan in a food processor. Whirl until well chopped.
Add the olive oil through the hopper in a thin stream to make a smooth paste, stopping to scrape down the sides a couple of times as needed.
Season to taste with salt and pepper.
Drain the orzo. Toss it lightly with the teaspoon of olive oil and let cool to room temperature.
With a sharp serrated knife, cut a slice about 2 inched across in the top of each tomato and remove the core. Scoop out the pulp with a small spoon or melon baller, leaving a 1/2 inch thick shell.
Lightly sprinkle the insides of the tomatoes with salt and pepper.
Mix the cooled orzo with the Pesto and feta cheese cubes. Taste for seasoning and adjust as necessary.
Stuff each tomato with about a cup of the filling.
Sprinkle the tops with the olives and garnish with the chopped basil.