Mediterranean Stuffed Chicken Breasts
Bayhill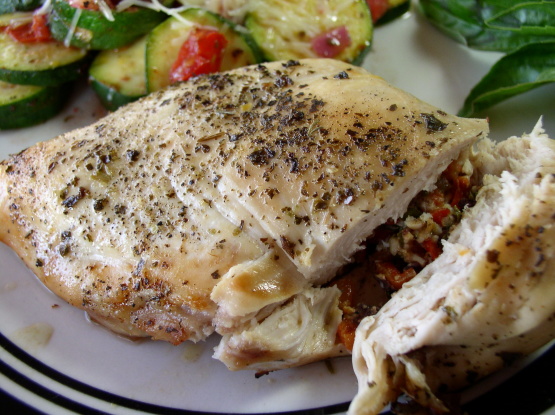 I adapted this from a recipe I saw in Cooking Light magazine, making changes to suit my family's taste preferences.

We made these chicken breasts for dinner last night and they were easy, fast to make and very tasty. I easily halved the recipe to suit 4 breasts, used a little more feta since I love it, and cheated and used a jarred roasted red pepper as I realized I didn't have a fresh one on hand. I served with roasted eggplant. Thanks!
Preheat broiler.
Cut bell pepper in half lengthwise and remove seeds and membranes. Place pepper halves on foil-lined baking sheet, skin side up. Broil 15 minutes or until blackened. Place in air-tight container for 15 minutes. After 15 minutes, finely chop the 2 bell pepper halves.
Mix together chopped bell pepper, garlic, cheese, olives, basil, salt, and pepper in a bowl.
Cut a horizontal slit in thickest portions of each chicken breast to form a pocket (but do not cut all the way through). Spoon the pepper/feta/olive mixture into each pocket. Close the opening with a toothpick. Season chicken on both sides with salt and pepper, and sprinkle the top side with dried basil.
Place chicken on broiler rack, and broil 6-8 minutes each side, or until done (it may take additional time, depending on thickness of the chicken breasts). Remove from oven, loosely wrap with foil and let stand 10 minutes before serving.