Mediterranean Spinach and Rice
mikey ev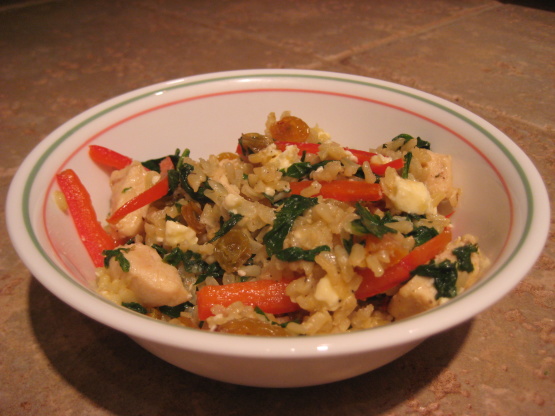 from Kraft Foods. If you make the recipe as-is, it is more spinach-y and less rice-y. A 10-oz block of frozen spinach works nicely. I prefer more rice, so I use less spinach and usually go with brown rice. Great additions at the end include: chicken, toasted almonds, dried fruit, herbs to your liking, and anything else your heart desires! Note: Cooking time omits the time to cook the rice (you can use minute rice, a rice cooker, or stovetop - whatever you prefer).
Cook rice according to package directions, omitting oil and salt.
Heat a large skillet or wok over medium heat.
Add oil and garlic.
Stir until garlic is light golden brown, about 2 minutes.
Add raisins and cook for 1 minute.
Add spinach 1/3 at a time, tossing quickly just until each addition begins to wilt.
Add cooked rice, red bell pepper, feta cheese, and pepper.
Stir briefly to combine and season with salt to taste.