Mediterranean Spiced Rice With Apricots
Kree6528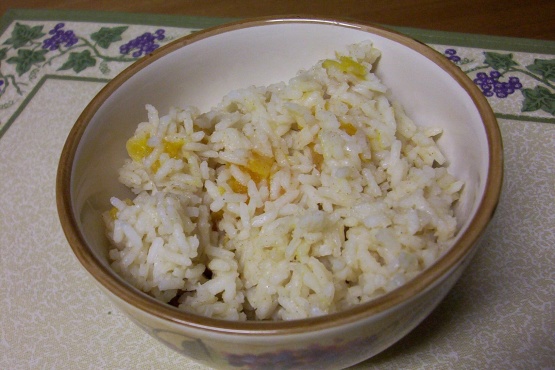 This recipe comes from the package of apricots I have in my pantry. I love the flavors of the Mediterranean and thought this sounded yummy. If you would like and have some cooked chicken, you can shred the chicken and add to the dish along with the apricots for a light main course.

Flavour five stars but I didn't like the directions. First of all I soaked basmati rice, and used white organic onion instead of green as that's what I had on hand. Mixing the organic chopped apricots into the rice and cooking more was not the optimal way add them in my opinion as it would interrupt the cooking of the rice and break the grains. I used homemade lamb stock instead of chicken stock as that is what I had on hand. Served with a Middle Eastern lamb dish and greens for a delicious meal. I'd use the basic idea of this recipe again.
In a saucepan, over medium heat, warm the olive oil, add the garlic and cook for 30 seconds.
Stir in the chicken stock and water; bring to a boil.
Add the rice; reduce heat, cover and cook for 15 minutes or until rice is almost tender.
Stir in seasonings, apricots and green onion; cook an additional 5 minutes to blend flavors.