WiGal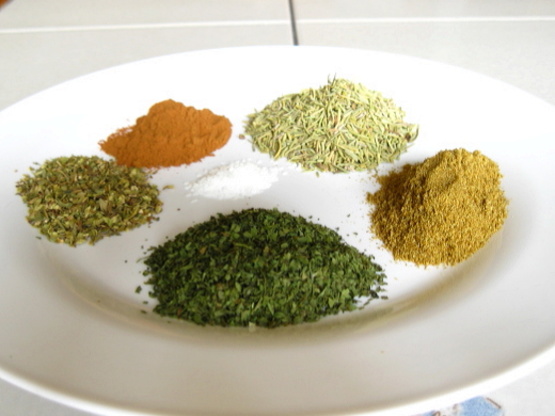 Sprinkle dry on new baby potatoes, meat or mix into a rub.
Rubbed this generously on some boneless skinless chicken breast cutlets and then sauteed them in olive oil. SO GOOD. Made it with whole carrots tossed in olive oil, ground ginger, and cumin and then roasted. Also with some jasmine rice that had been toasted in cumin, cinnamon, turmeric, and garlic and added in a bay leaf. Squeezed fresh lime over everything - amazing. Will definitely use this seasoning mix again.
Mix all ingredients in a bowl. Sprinkle (to taste) on your meat. Makes 1/3 cup.
***Tip -- for every 4 servings (1 lb boneless, 2 lb bone in) meat, poultry or fish, mix 2 tbsp Mediterranean Spice Mix, 1 tbsp, vegetable oil, and 1 clove of minced garlic. Rub over food and let sit for 10 minutes (if you make ahead the wet rub; cover& refrigerate for up to 24 hrs).