Mediterranean Shrimp Wraps
ChefLee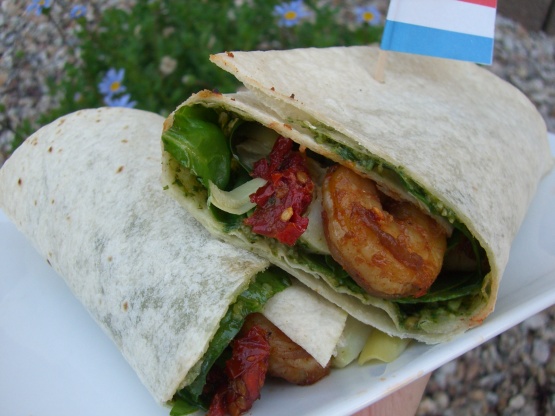 I saw this being made on a Robin Miller episode on Food Network. I printed out the recipe and it's been sitting in my "to do" pile for quite a while. We finally tried it tonight for dinner and were delighted at how all the flavors blended together and it just couldn't be any easier or more versatile. You can make your own basil pesto, of course, and use any flavor of tortilla, or just use plain (we used spinach). The original recipe called for canned artichoke but we don't like those and so I used marinated artichokes in the jar and rinsed the oil off, then squeezed them dry in a paper towel. The sun-dried tomatoes added a lovely bite of flavor, I do not recommend leaving them out. These will make a really nice, light summer meal served with a couscous salad, or some other Mediterranean type salad.

This is so fantastic!!!! I love all the fresh flavors!!!!!!!! I used the same shrimp that Chef*Lee did and it is really good and already cooked up, you just have to heat them in the microwave. Then, I made a basil mayonnaise instead of pesto because I was lazy and didn't want to get out my food processor. It was great!!! I used arugula in place of spinach and talk about depth of flavor!!! I will definitely make this wrap again!!! Loved it!!!!
Spread 1 Tablespoon of pesto on each of the tortillas.
Top evenly with the spinach, shrimp, artichoke hearts and sun-dried tomatoes and roll up.