Mediterranean Roasted Vegetables
Laura S.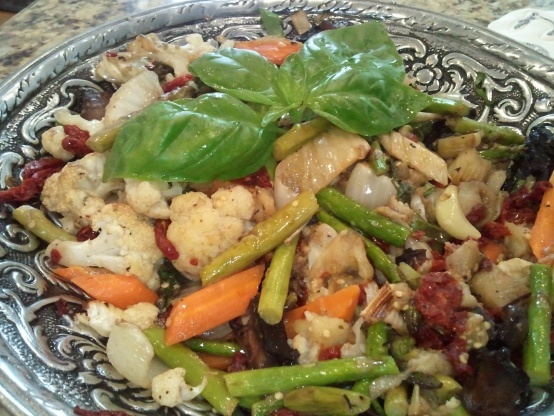 This is my favorite dish to bring to a pot luck. It makes a very stunning and beautiful presentation and people get to taste something delicious and healthy. I hope you will try it.
Preheat the oven to 500 degrees.
Wash, and prep the vegetables.
Place the vegetables in one layer on several well greased cookie sheets.
(You might want to use disposable cookie sheets to make the clean up easier, since those caramelized juices do stick to the pans).
Liberally brush the vegetables with oil and season with salt.
Roast on the upper rack of the oven until crisp-tender and some of the edges begin to char, about 15 minutes.
The vegetables will not all be done at the same time, so watch each pan carefully and take out those that are in danger of blackening too much.
Remove the vegetables to a large serving platter and arrange attractively.
While the vegetables are still warm drizzle on about 1/4-1/2 cup vinaigrette.
Then sprinkle on some salt and pepper and red pepper flakes, the garlic, sun dried tomatoes and finally the basil.
This should be served at room temperature.