Mediterranean Roasted Green Beans with Slivered Almonds
PaulaG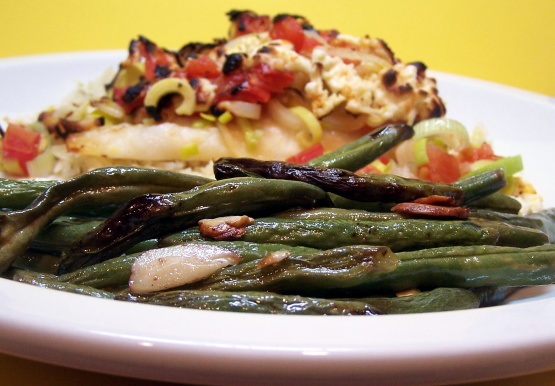 Roasting green beans is a common method of bringing out the bean's natural sweetness, in the Mediterranean. A delightful and easy method for preparing green beans.

Top Review by Bergy
We really enjoyed your recipe. I used frozen beans (Love fresh but I have scads in the freezer from last years garden) and defrosted them, drained off excess water, omitted the 2 tbsp water, sprinkled a bit of powdered veg broth mix over them and them followed the rest of the recipe. I nearly overdid them, got a little careless, they had a lovely taste and a crunchy feeling texture because of the almonds. I used a bit more almonds Thanks Bev ,this is a keeper,
Preheat oven to 425*.
Lightly oil a baking sheet and set aside.
Combine the broth, lemon juice and oil in a glass measuring cup.
Place the beans on the prepared baking sheet and drizzle with the broth mixture.
Spread the beans out into a single layer.
Roast for 8 minutes.
Remove the baking sheet from the oven.
Season beans with the salt and the freshly ground pepper, then stir and turn over.
Sprinkle with the almonds.
Roast for an additional 5-7 minutes, or until the beans are wrinkled and tender and the nuts are fragrant and browned.
Serve immediately.