Mediterranean Roast Peppers
Debbwl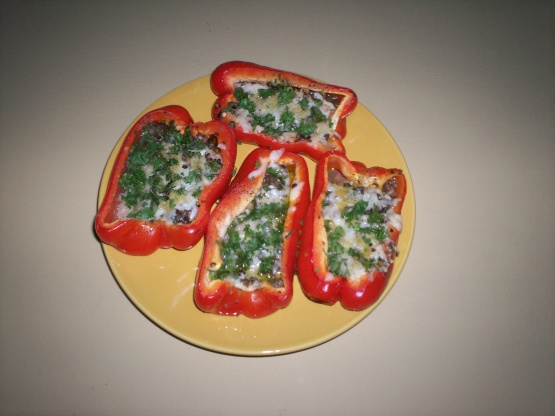 Simple and effective, with a crisp cheesy topping, ideal as a starter with french bread, or as a light lunch or supper with rice or couscous. From The Inspired Vegetarian

Top Review by awalde
We loved these rosted peppers very much, thanks for this great recipe.<br/>For the preparation I used 3 medium peppers and it worked perfectly.<br/>The addition of capers and olives made this recipe a really delicious dish and gave a very good taste. <br/>We ate them warm, but I can imagine that they would be great cold as well. Next time I would like to try with mini-mini filled peppers (perhaps in different colors) and serve as appetizers.
Preheat the oven to 180 C / 350 F / gas 4, and butter a shallow ovenproof dish.
Place the peppers tightly together in the dish, and sprinkle over the chopped capers, black olives, garlic, mozzarella and breadcrumbs.
Pour over the wine and olive oil, and then sprinkle with the mint, parsley and freshly ground black pepper.
Bake for 30 - 40 minutes, until the topping is crisp and golden-brown.