Mediterranean Risotto (With Other Influences!)
Rita1652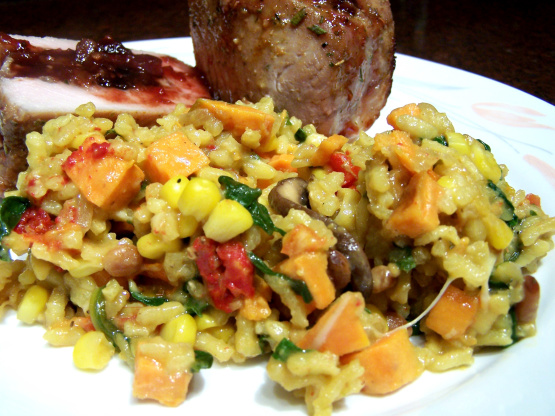 I'm a sucker for risottos, and i thought i'd take up the challenge! Alterations can be made to make either a vegetarian or vegan meal, and whatever you choose it's definitely worth the effort!

I enjoyed all the bright healthy ingredients and the terrific punch of flavor from the varied blend of flavors. I did use the entire cup of sun dried tomatoes, as it was a little too costly, but I was very satisfied with 1/2 a cup. I really think this dish only needs 1 cup of the rice, the two cups made a HUGE amount and seemed to diminish the other lovely ingredients. I made some extra chicken and served the extra chicken to my hubby to make this a main dish.
2

cups arborio rice

1

small chicken breast, cut into chunks (optional)

4 -6

cups chicken stock, warmed (vegetable stock can be used for vegetarians)
1⁄3 cup white wine

1

pinch saffron strand (soaked in a small quantity of water for at least an hour or so)

3

golden shallots, diced (please do not replace these with green shallots!)

1

teaspoon minced garlic

2

cups cubed pumpkin

2

cooked ears of corn, kernels removed
1 1⁄2-2 cups sliced mushrooms (experiment with varieties, cup and button mushrooms work well)

1

cup sun-dried tomato, roughly chopped

1

bunch fresh spinach, roughly chopped
1⁄2 cup grated aged asiago cheese (optional)

2

tablespoons pine nuts, roasted
Pre-cook pumpkin in the microwave for approximately 3 minutes, or until a skewer can be inserted through the cube, but with some resistance (i.e. don't cook until the point of mush!). Place the pumpkin on a lined baking tray and place in a hot oven (200 degrees celsius) for 20 minutes, or until cooked through and golden.
Spray a large ovenproof dish with a little oil and cook the chicken (if using). Remove from dish. Spray dish with some more oil, add the garlic and onion and fry (on a high heat) until onion is translucent, yet slightly golden. Add the rice and coat the grains with the oil the onions have been cooking inches Add the wine and saffron and stir in before adding 1 cup of the warmed stock. Bring to the boil then lower the heat, stir constantly until most of the liquid has been absorbed. Add another cup of water and repeat the process of stirring until most of the liquid has been absorbed. Repeat with the remaining cups of water. The amount of liquid needed can sometimes vary from person to person, I find I need 6 cups, but you might only need 4. I advise testing the rice after four cups of stock has been added, that way you'll know how much to add (basically keep adding stock until the rice tastes cooked!).
Stir in the pumpkin, corn, mushrooms, sun dried tomatoes and the chicken. Remove from heat and gradually stir in the spinach until it's wilted. Season with lots of cracked black pepper!
Add in the cheese (if using) and the pine nuts.