Annacia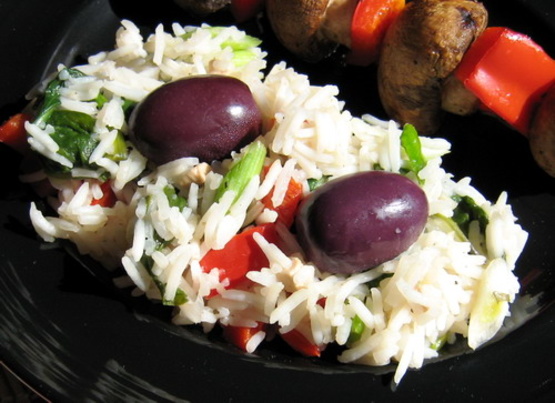 Great side-dish for your next bar-b-que or potluck. Courtesy of Lyn Michaud

I served this chilled and it worked really well with the flavors developing. I also used brown rice because it is what I keep in the house and like Evelyn I went for dried oregano. Made for ZWT4.
In a medium saucepan, bring 2 1/2 cups water to a boil. Add 1/2 teaspoons salt and the rice. Turn heat to low, cover and simmer 15 minutes. Remove from heat and let sit 5 minutes. Uncover and fluff with a fork.
In a large bowl, whisk lemon juice, olive oil, garlic, oregano, pepper, pepper flakes, and remaining tsp salt.
Add rice to dressing and toss to combine. Add spinach, toss, and let sit until no longer steaming, about 20 minutes. Add remaining ingredients and toos to combine. Serve at room temperature or cold.