Mediterranean Quinoa Salad
Prose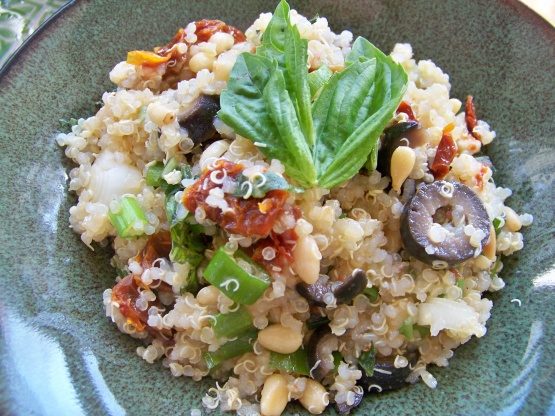 Very tasty side dish - especially for barbecues! (It can be made a day ahead) - To make it a complete vegan meal, just add chickpeas or baked/grilled tofu chunks. Serve with (vegan)tzatziki.

What a superb tasty salad! I found the marinade to be particularly flavourful.
I believe my only modification was to use fresh oranges for the orange juice, as well as toasting the quinoa prior to any boiling (see recipe here for toasting quinoa- really does improve the flavour!).
The salad lasted for about three days in our fridge, and the flavours became more intense over time.
Great recipe!
Rinse quinoa in a strainer under running water and drain.
Bring water to a boil. Add quinoa and let it simmer for 10-15 minute (until water is absorbed and quinoa is translucent)
Set aside to cool. Meanwhile prepare vegetables.
Combine ingredients for the marinade, pour over cooled quinoa and stir to mix.
Add herbs and vegetables. Stir again. Sprinkle with pine nuts.
Cover and refrigerate 2-6 hours or more. (Serve at room temperature).