Mediterranean Pita Triangles
Babs7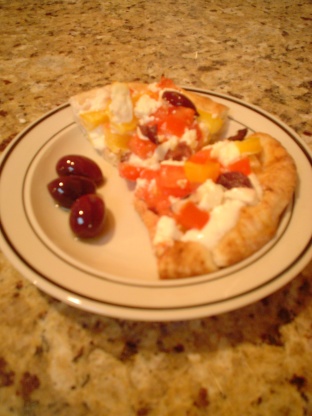 These snacks make a beautiful and tasty warm appetizer, or could be kept whole and served as a light lunch. Pita bread toppped with a tahini yogurt sauce, bell peppers, olives, tomatoes and feta. Simple to make with a very nice presentation. This recipe was created for the Ready, Set, Cook! contest.

another tasty recipe-easy to make.
Preheat oven to 425 degrees F.
Place whole pitas on baking sheet.
Mix yogurt, tahini, lemon juice, water and garlic until smooth.
Spread half of yogurt mixture on each pita bread.
Cut yellow pepper lengthwise into strips about 1/8 inch wide, then cut strips in half and place decoratively on pitas.
Then top each pita with half of the tomatoes, olives and feta.
Bake for 8 minutes, until pita begins to crisp and feta is beginning to melt.
Remove from oven, cut pitas into 6-8 triangles and serve warm, or leave whole and serve as individual pizzas.