Mediterranean Paella (Vegetarian)
PaulaG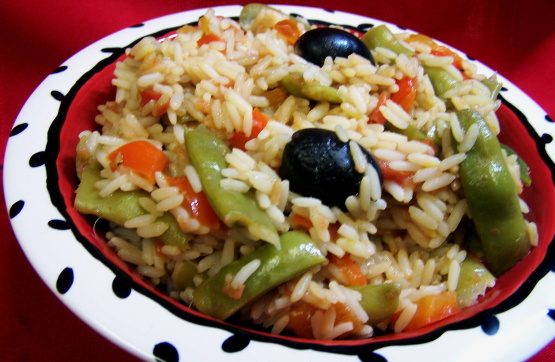 Makes a colorful and tasty side dish or light main dish. It has passed the "husband test" and has also been popular at potlucks. This came from a cooking show I used to watch back in the early 1990's.

This is great. The kids [3 and 6] also ate it without too much fuss. Nice healthy meal.
Place saffron threads in 2 tablespoons of hot water. Stir around and then set it aside.
In a large pan or dutch oven, sauté the uncooked rice in the olive oil for about 2 minutes, stirring constantly.
Add vegetable broth, green beans, black olives, bell pepper, saffron mixture, white pepper, cayenne, and tomato.
Cook, covered, for 30 minutes, or until the water is evaporated, stirring occasionally to keep it from sticking to the bottom of the pot.