twissis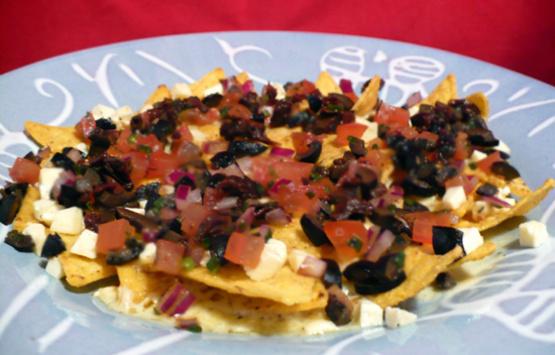 This recipe is made in the microwave! For an extra flavor boost, look for sun-dried tomatoes in olive with herbs. Feta cheese is available plain or flavored. You can use cheese with garlic, basil, sun-dried tomato or herbs. Recipe is from Betty Crocker.

Loved these easy-to-fix & tasty nachos, Lainey. I made a full recipe of them for 2 of us & not a bite was left. The sun-dried tomato & feta I used were both packed in oil w/herbs. The feta was orig cubed, but I cut them to a fine dice & most melted fine. I used a mix of red onion + chives as green onions are rarely available here. I esp liked the contrasting texture & flavor of using both sun-dried tomato & fresh tomato. Made for the Aug Aussie/NZ Swap & thx for sharing this recipe w/us. :-)
In small bowl, mix olives, sun-dried tomatoes, oil, plum tomato and onion; set aside.
On large microwavable plate, arrange tortilla chips in single layer.
Top evenly with cheese.
Microwave uncovered on high for 1 minute.
Rotate plate 1/2 turn, microwave 30-60 seconds longer or until cheese is melted and bubbly.
Spoon tomato mixture evenly over chips and cheese.