Nif_H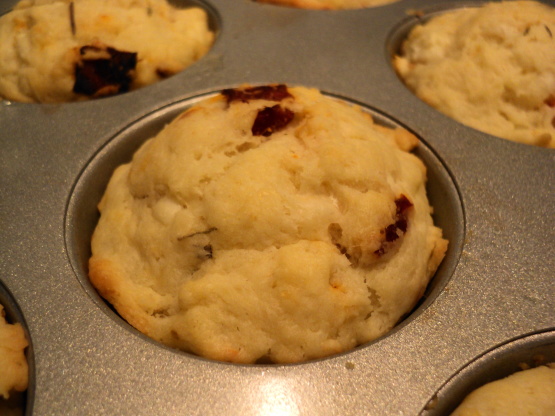 This is a very yummy, mediterranian inspired recipe featuring sun-dried tomatoes, rosemary and feta cheese. I hope youll enjoy it as much as we do! :)

I've been making these at work to sell in the cafe.
I've mixed it up a few times, swapping the tomatoes for char-grilled capsicum & I sometimes cook some chopped mushrooms with garlic in butter, let them cool & use 40g of those with 40g of either tomatoes or capsicum. Mixed dry herbs is what I use & someone at work really must like these muffins a LOT because the recipe disappeared from the kitchen! Lucky I've made them enough times to know the recipe off by heart :) Thanks for sharing, Lalaloula!
In a big bowl combine flour and baking powder.
Add in sun-dried tomatoes, rosemary, garlic and feta. Stir to combine.
In a second bowl combine oil, buttermilk and egg.
Stir the wet into the dry ingredient and mix to combine. Be careful not to overmix. Dough should still be lumpy. This dough will be rather stiff.
Fill into prepared muffin tins and bake at 180°C/350°F in the preheated oven for about 25 minutes.
Muffins are ready when a toothpick inserted in the centre comes out clean.