Bergy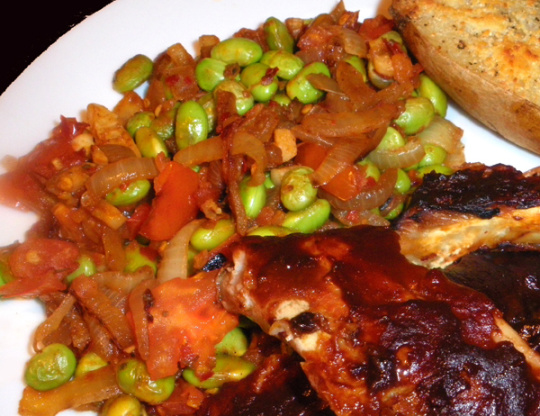 From Eating Well Feb-March 2005. This is healthy and quick, using frozen and canned veggies! Would be good with kalamata olives and feta cheese added.

My Goodness..this recipe was very good. I have acid reflux diseases and have been trying to get more fiber in my body.....I didn't want to season my lima beans with salt...so I use your recipe.

It was delicious. I have never used Cinnamon in a savory way since America usually uses cinnamon for sweet things. The cinnamon added a kick to the beans. I didn't use the tomatos and pepper flakes because that would only aggravate my ulcers.... Thank you so much for this recipe.
Heat oil in skillet over medium-high heat; cook onions until soft, 3- 5 minutes.
Add garlic and cook for 1 minute.
Stir in spices, tomatoes, and lima beans and cook for 10- 15 minutes, stirring occasionally.