Mediterranean Lamb on Chickpea and Tomato Salad
JustJanS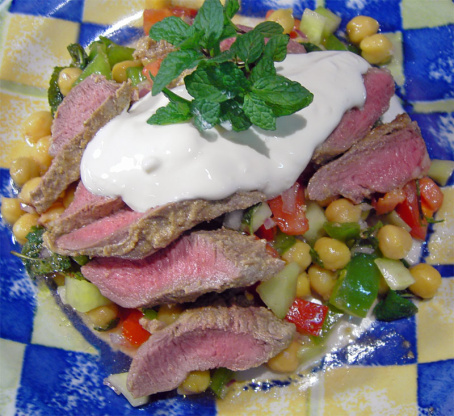 I got this somewhere on the net. It's good.

Wow - Yum, this is so refreshing and tasty. The lamb was extremely tender from the yoghurt coating and fabulous flavour. I used loin chops and grilled them. Loved the hint of mint throughout the salad and the yoghurt topping had just the right amount of garlic added. This is a favourite for us. Thanks Jan!
Marinate lamb fillets in a the yoghurt, cumin and coriander for 1 hour.
Combine chickpeas, capsicum, tomatoes, onion, mint, oil, vinegar, salt and pepper in a bowl.
Stir together remaining yoghurt and garlic in a bowl.
Pan-fry lamb fillets in a non-stick pan over medium heat or until cooked through. Place salad onto four serving plates and top with sliced lamb fillets.
Finish with a generous dollop of garlic flavoured yoghurt.