Mediterranean Kalamata Hummus
Thorsten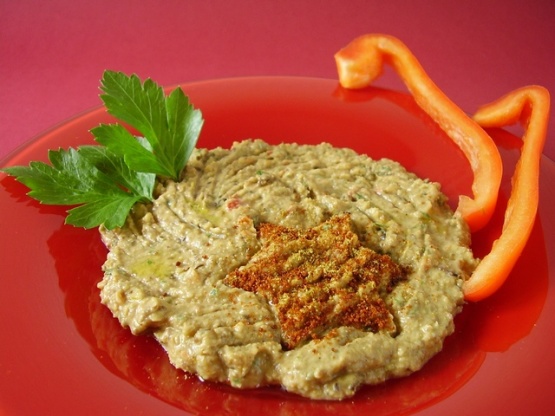 This hummus is so good on warm pita triangles or even with cucumbers, radishes, carrots and/or green onions. The combination of ingredients really makes this hummus bi tahini a truly wonderful Mediterranean dish. I may never eat plain hummus again. This recipe was inspired and created for RSC #7.

The 3-star rating if for the recipe as is. After the following changes, we would rate it 5 stars. <br/>We roasted the red pepper and removed the skin. However, we found the flavor of the kalamata olives to be very overpowering. To fix this, we added an extra half of a red pepper (raw, not roasted), 2 tablespoons of plain yogurt, 1 extra tablespoon of lemon juice, 1 extra tablespoon of tahini, and 1 extra tablespoon of parsley. It was fine after these additions... and this resulted in more hummus :-)
Combine all ingredients in a food processor and puree. Add enough cold water to achieve a spreadable consistency.
Spoon puree onto a shallow plate and smooth the top with a spoon. Drizzle with remaining olive oil and strew with remaining parsley. Sprinkle remaining cumin and cayenne in a star pattern and serve with warm pita or veggies.
Enjoy!