Mediterranean Hummus Appetizer

Inspired by Zea's Hummus Appetizer Platter. Refrigerate time not included. (So good I strongly suggest doubling the hummus recipe since you'll already have on hand the toppings.) Note: I made a remarkable discovery. Adding lemon zest makes for extraordinary so I added it as an optional ingredient. Update: Substituting about half of the olive oil with chickpea juice makes for a fluffier hummus. Note: Since originally posting this recipe, I've come to realize that boiling your chickpeas for about 5 minutes makes for a better end product. Make sure you reserve the juice should you want a thinner hummus.
Directions
Place all hummus ingredients into a blender or food processor; blend until smooth. Add some reserved broth should you desire a thinner hummus.
Refrigerate for about 1 – 3 hours for flavors to blend.
Transfer mixture to a serving plate and spread hummus out evenly into a circle. Garnish with the above toppings according to your taste in the order listed. Sprinkle over all with paprika or sumac.
Serve with warmed pita triangles.
Reviews
Most Helpful
AMAZING!!!! Licked the bowl clean!

Fantastic Hummus recipe -- the best I have tried to date! I doubled the recipe and served it with Savory Pita Chips (equally delicious). This will be my new "go to" recipe when I want a healthy, delicious appetizer or snack. Thanks for posting this great recipe. Made for Everyday is a Food Holiday tag, October, 2011.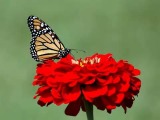 Wow, this really is a very tasty hummus! I liked it a lot. It had just the right amount of cumin and tanf from the yoghurt. Next time I would use a bit less garlic but thats just personal prefernce I guess. I reduced the oil a tad cause I like it when my hummus is a bit sturdier instead of super creamy. Its amazing how versatile this recipe is because of the various topping options. This time I used olives and cayenne pepper on top. Mmm! :)
THANK YOU SO MUCH for sharing this keeper with us, Gail Ann!
Made and reviewed for Aussie/NZ Recipe Swap #54 July 2011.