Mediterranean Herbed Rice
lazyme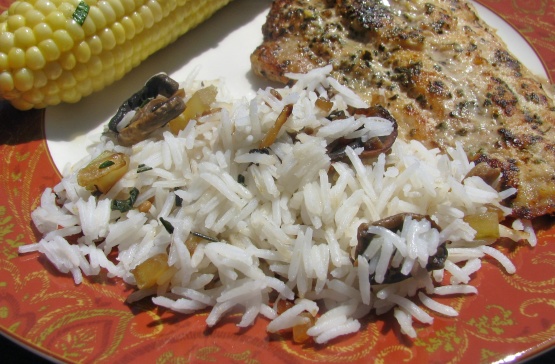 This rice side dish is excellent in the spring, when fresh herbs are so abundant and easy to find. Although the recipe calls for basmati rice, I think you could use any long- or medium-grain white rice. Just please adjust the cooking instructions to accommodate your rice selection (and cook the rice according to the package directions).

I made this for the Make It Vegan challenge in ZWT#9 Greek challenge. Excellent! To make it vegan I used Swanson's Flavor Boost(Vegetable) with the water. I used brown basmati rice, so had to cook it about 45 minutes(used 2 cups of water instead of 1 3/4). For the herbs I used basil, oregano, chives, parsley and thyme from the garden. I didn't have button mushrooms so used sliced portobellos. Loved the flavors! Made for team Hot Stuff!
In a medium saucepan bring water to a boil; stir in the bouillon. Add the rice and stir several times until it returns to boiling. Reduce the heat to low. Cover the pan and let it simmer over low heat for about 10 minutes or until the liquid is absorbed. Remove the saucepan from the heat, and let the pan stand undisturbed, covered, for 10 minutes. (Do not lift the lid!).
In the meantime: In a large skillet, saute the onion, celery, mushrooms and garlic in the olive oil over medium heat for 3 minutes (or until the celery and onion are tender). Remove the skillet from the heat.
Add the cooked rice, fresh herbs, and rosemary. Season with salt and pepper, and stir just until well combined. Serve while still hot.