Rita1652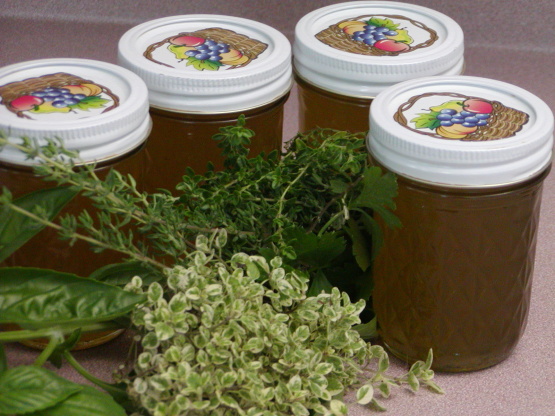 This is adapted from the December 2003 issue Bon Appetit, and has to be one of the reasons I pay the extra $$$ for an international subscription. I've made this twice already, once to keep for my very own and once to give as gifts, using pretty oil bottles with pouring spouts. This oil is wonderful in some pasta or grilled fish. You can also use it to make extra-special brushetta. Oh, and don't even think of using dried herbs instead of the fresh!

This is wonderful. I've used it tossed with spaghetti and brushed on tilapia before baking. I just got a bargain on olive oil (marked down from $18 to $8 at the grocery store so I'm about to make it again. I onlly make a cup at a time, cutting the amount of each herb down to 2 Tbs.
Put all the minced herbs in a heavy saucepan.
Add the oil.
Bring it to a simmer over medium heat, stirring every now and again.
Simmer for 10 seconds.
Take the pan off the heat, keep stirring for another 30 seconds.
(Yes, seconds.) Let the herbs now steep in the oil for about an hour, until cool (you didn't think it was going to be that quick a recipe, did you?).
Strain the oil through a fine sieve into a measuring cup, pressing on the steeped herbs to get out all the oil and all the herby essense.
Divide the herb oil between 4 pretty oil bottles.
Seal tightly.
Keep in the fridge at least 1 day to develop the flavors.
Keep this oil in the fridge.