Mediterranean Fish (Flounder)
kda949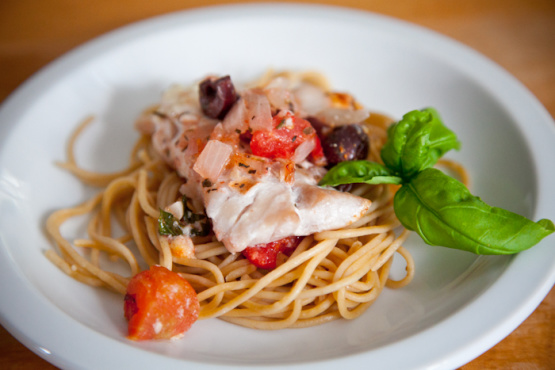 You can use any firm fish for this recipe- I have used flounder-aka sole, mahi mahi, halibut and tilapia. It makes a wonderfully easy baked fish with tomatoes, kalamata olives, caper, onions and white wine. It is my absolute favorite way to make fish! I got the recipe from here but do not see it posted anymore so I will added it again for everyone to enjoy- it is SO EASY and SO GOOD!

Excellent, easy recipe, substituted black olives for kalamata and added 2 tablespoons of peccorino romana on top while it baked. Highly recommended.
Preheat oven to 425 degrees.
Prepare tomatoes if using fresh by plunging them into boiling water, imediately removing them to a bowl of ice water and peeling the skins. Or you can chop them with the skins on or use canned- it is a person preference thing.
heat olive oil in a medium skillet over medium heat. Add onions and saute until tender. Add garlic and Italian seasoning, stirring to combine. Add tomatoes and cook until tender. Mix in wine, olives, capers, lemon juice and half of the basil. If fresh basil- if fresh basil is not available add a couple teaspoons of dried basil-fresh is always better though. Reduce heat, blend in Parmesan cheese and cook until the mixture is hot and bubbly. If you prefer a thick sauce you can cook until the sauce has reduced to a thick sauce, about 15 minutes.
Place fish in a shallow baking dish. Cover with the sauce mixture and bake in preheated oven 15-20 minutes depending on the fish used. Fish should flake easily with a fork when done, except for the mahi mahi which flakes when done, just not easily.