Mediterranean Fettuccine With Sausage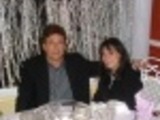 I was so fortunate to have all these flavorful ingredients on hand, which made for a lovely (and quick) dinner. The brininess of the olives and capers was a pleasant reminder of warmer climates on a cold January night!
Directions
In a large nonstick skillet, heat oil over medium-high heat. Add sausage and onion and cook, stirring occasionally, until sausage is browned and onion is tender, about 6-7 minutes. Add garlic and cook for about 1 minute. Stir in wine and basil; cook, stirring up any browned bits from the bottom of skillet, about 1 minute or so.
Add pasta sauce, olives, and capers; bring to a boil. Reduce heat to medium-low; simmer, covered, until sausage is thoroughly cooked, about 15-20 minutes.
Meanwhile, in a large pt of salted boiling water, cook the fettuccine according to package directions; drain. Add to sauce mixture and toss to combine. Transfer to a serving bowl; sprinkle with Parmesan cheese and parsley.
Reviews
Most Helpful
Totally wonderful comfort food. It's been down into the -50's with the wind chill and this old house does have some leaks that we haven't found yet so a hot comfort meal made with favorite things was most welcome. My only change was to use homemade pasta sauce out of the freezer that I make with no sugar. Thanks for posting this yummy recipe, DH placed dib's on the leftovers! :D