Mediterranean Couscous Salad
PaulaG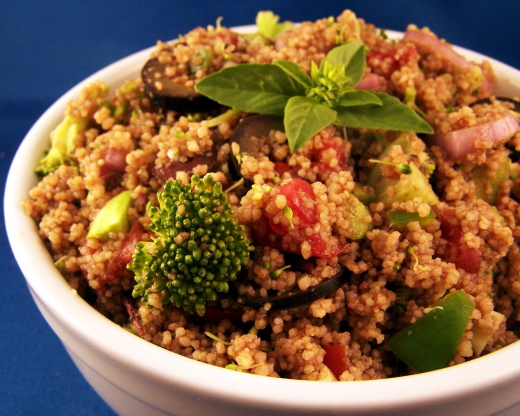 A gorgeous light side dish which goes fabulously with a piece of grilled chicken or fish! Also great for picnics as it's best warm or room temp. You could add some corn kernels, maybe toasted pine nuts? Anchovies? Aussie tbsp used (20ml).

*Made for Australia/NZ Swap # 36* How delightful !! We were having bison burgers, and DH is not fond of cool sides when outside temps are in the teens. I used Israeli couscous (pearl type), simmered with chicken broth for 8 minutes. I had steamed the broccoli florets, and added the olives, red pepper, and shallots to the warm couscous and broccoli. Was HORRIFIED to find I was out of balsamic, but used a "pretty' vinegar of fresh cranberry threaded on grill sticks with fresh rosemary. It worked !!! Just fell together easily and was VERY tasty ! Thanks for posting, Chickee !!
Mix couscous and stock in a bowl which has a lid, let stand uncovered.
Meanwhile, mix olives, capsicum, tomatoes herbs and shallots together in a bowl.
Mix balsamic, lemon juice and garlic.
Pour 1/3 of dressing over vegetables, mix well.
Chop the broccoli into small florets about 1/2 inch wide. Cut the stalk into small pieces (about the size of a corn kernel. You want most things to be the same size in this salad.).
By now the couscous should be almost ready.
Add the broccoli to the couscous and put the lid on loosely.
Microwave for 1 minute.
Add to the salad mix and toss.
Pour over 1/2 the remaining dressing, toss, add the remaining dressing, toss well.
Serve whilst still warm.