DanaPNY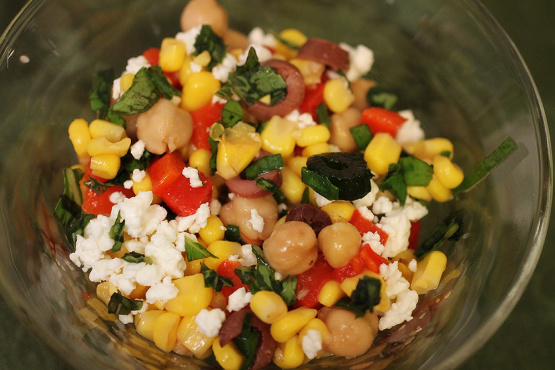 A simple salad best served at room temperature, so it's perfect for summer BBQs and potlucks. I think some marinated artichokes and some sundried tomatoes would be good additions to this recipe as well. I also throw in about 1/2 tsp of Greek seasoning in mine. Recipe from Dierberg's Everybody Cooks.

This corn salad was heavenly! The only thing I added was pitted kalamata olives. I also decided to throw in the feta just before serving rather than letting it marinate with everything overnight. Such a great side dish (but I can easily see myself eating a whole bowl of this as a meal, lol)! I featured this recipe in my blog - http://danasfoodblog.com/?p=970.
1

(10 ounce) bag frozen corn, thawed

1

(15 ounce) can garbanzo beans, drained and rinsed

1

(7 1/4 ounce) jar roasted red peppers, drained and chopped (feel free to sub fresh diced green or red bell peppers for more crunch to the salad)

4

ounces crumbled feta cheese (tomato basil flavor works great if you can find it)
1⁄4 cup thinly sliced green onion

1

tablespoon olive oil

1

tablespoon red wine vinegar (I double this)
salt and pepper
chopped fresh basil (optional, but adds a TON of flavor)
Mix together corn, beans, peppers, feta, and onion.
Mix oil, vinegar and garlic, then pour over the corn mixture.
Gently stir to blend and chill several hours or overnight. Add salt and pepper to taste.
Sprinkle top of salad with fresh basil just before serving. Tastes best at room temperature.