3 Reviews
I made this recipe for a potluck with my neighbors and it was a hit. It is true that this dish gets even better the longer it marinates. Thanks for the post. Made this for the Chickpean Tag - May 2011.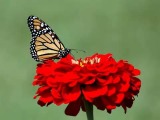 Yummy! This was extremely easy to make and very delish. The name "Mediterranean Chickpea Salad" describes it perfectly. Taking one bite and it is so yummy Mediterranean. And the more it marinates, the better it gets!

Fabulous!! I used about 1/2 cup parsley and 3 tsp dijon mustard, but left everything else the same. I thought this was perfect and the flavors were so fresh and clean. Thanks for a new salad recipe!! I will definately keep this one handy.

Mediterranean Chickpea Salad