Mediterranean Chicken Salad
lazyme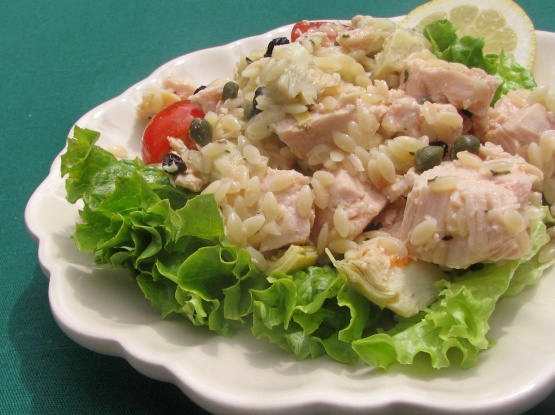 I found this several years ago on Epicurious and it is one of my favorite salads. It has just the right balance of savory and sweet. I usually use a rotisserie chicken for flavor and ease of preparation.

We liked this chicken salad. DH actually liked it better the next day when he took it for lunch after the flavors had awhile to meld more. This was very easy to prepare as well. We grilled some extra chicken (when making another grilled chicken recipe) to use in this salad, which worked well. I made no modifications to the ingredients. Thanks!
Combine olive oil, tarragon vinegar (2T+ 2t.), tarragon, lemon juice and Dijon-- whisk to blend. Season with salt and pepper. Pour 1/4 cup over chicken in med. bowl.
Cook orzo--drain and rinse with cold water. Stir in remaining dressing. Add remaining ingredients. Adjust salt and pepper and serve.